Home | RISE
---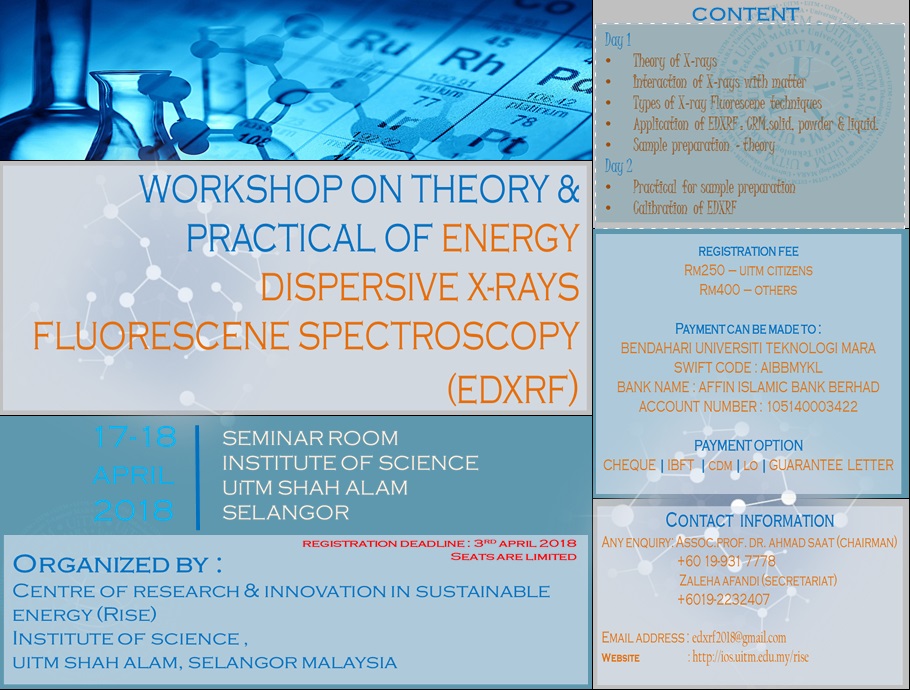 Assalamualaikum and Good Day,
Dear respected Prof. / Associate Prof. / Dr. / Sir / Madam
Centre of Research and Innovation in Sustainable Energy (RISE), Institute of Science, Universiti Teknologi MARA Shah Alam would like to invite you to participate in Workshop on Theory & Practical of Energy Dispersive X-Rays Fluorescence Spectroscopy (EDXRF2018) which will be held as follow:
Date : 17 & 18 April 2018
Venue : Seminar Room, Institute of Science,  Old Engineering Building
UiTM Shah Alam, 40000 Shah Alam, Selangor.
Registration Fee : UiTM Citizens - RM250 | Others - RM400
Registration Deadline : 3rd April 2018   13th April 2018 
For more information, please click link below :
For registration, please click EDXRF2018 Registration
and visit the RISE website: https://ios.uitm.edu.my/rise/.
We would be very grateful if you could disseminate this information to your colleagues/students who might be interested to participate in the workshop.
Should you require any assistance or clarification, please do not hesitate to contact us at This email address is being protected from spambots. You need JavaScript enabled to view it..
---
 RISE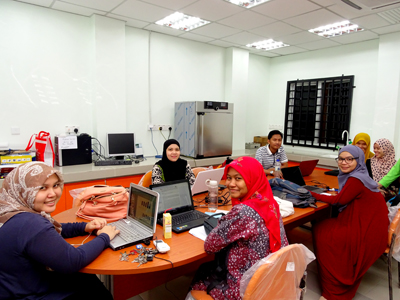 (Head: Assoc. Prof. Dr. Ahmad Saat)
The Centre of Research and Innovation in Sustainable Energy (RISE) inaugurated in April 2008 was previously known as the Centre for Research in Energy Efficiency and Renewable Technology established in the Institute of Science in 2002. RISE is headed by Assoc. Prof Dr Ahmad Bin Saat and the research conducted in Environmental Radiation & X-ray (ERaX) Laboratory and field study. The centre focus areas of research are on environmental nuclear radiation and the fundamental solar energy studies, development and applications of renewable energy in buildings, passive solar architecture, energy efficiency in buildings and environmental air quality. Recently it expended into research related to indoor and outdoor low-level environmental radiation. Many of the research projects are funded by the Government as well as private sectors, such as Ministry of Education (MOE), Ministry of Science, Technology and Innovation (MOSTI), Sime Darby Research Sdn Bhd, and TNB Research. With regards to the centre output, it has actively produced numerous publications in respected journals; many of the projects have won awards at national as well as international fairs and exhibitions that attest the commercial viability of some of the innovation produced by the centre.